WMN's Rough Guide To globalFEST!
Posted Dec 21, 2011
Once Christmas has passed and New Year's forgotten, what better way to shake off those post-holiday blues than an inspirational evening at globalFEST? For one night only - 8 January 2012 - New York City's Webster Hall will be host to the ninth annual edition of this fantastic festival, bringing you twelve artists from around the world across three stages.
globalFEST 2012 boasts an excellent line up, featuring artists from famous musical lineages alongside those exploring new avenues. With three U.S. debuts thrown into the mix, 8 January looks set to be an evening to remember, so buy your tickets now!
If you needed any more tempting, here are the World Music Network's recommendations of who to watch on the night. We've selected six of the twelve, the best of a great bunch! To peruse the rest of the line up check out the globalFEST website.
---
Diogo Nogueira
A television idol whose good looks match his magnetic stage presence, this Brazilian singer and songwriter's warm, gritty voice and samba heritage (his father was João Nogueira, a highly respected composer) has hailed him a samba sensation, recently affirmed by his winning a Latin Grammy.
A native of Rio, Diogo performs the city's characteristic samba-canção, a more melodic variation that is among the best loved in Brazil (and least known internationally). Samba-canção's lyrics are mostly romantic, waxing poetic about love, music, soccer, and of course about the city itself. In a rare U.S. appearance, Nogueira promises to bring Rio's joyful heat and favorite beats to New York.
---
BélO
BélO is Haiti's outspoken groove innovator. The singer, songwriter, and guitarist's vision interweaves the Afro-Caribbean depths of Haitian tradition with a progressive voice for social and political transformation.
He keeps the socially conscious spirit of reggae alive, mixing it with the vibrant sounds of his native Pétion-Ville, Haiti's music central. With strong connections to his native island and to the Parisian Afro-global music scene, BélO finds powerful sonic ties that span the Atlantic and equally powerful ways to move audiences to sing along. If the below video is anything to go by, his live performances are not to be missed!
---
Silk Road Ensemble
Uniting across cultures to produce musical connections of deep relevance, the Silk Road Ensemble are a unique international collective of virtuoso musicians, founded by cello star Yo-Yo Ma. The group have continued Ma's artistic vision in their own distinct way, maintaining dizzyingly high standards and strong commitment to tradition, while composing, innovating, and further developing their sonic rapport.
globalFEST will see fourteen musicians take the stage for an evening of the highest musicianship and border-breaking creativity: Nick Cords (viola), Sandeep Das (tabla), Johnny Gandelsman (violin), Joe Gramley (percussion), Colin Jacobsen (violin), Cristina Pato (gaita) Shane Shanahan (percussion), Ko Umezaki (shakuhachi) Wu Man (pipa), Wu Tong (sheng), Mike Block (cello), Eric Jacobsen (cello), Jeff Beecher (bass), Haruka Fujii (percussion).
---
Canzoniere Grecanico Salentino
Bandleader, fiddler, and drummer Mauro Durante and company can make an audience shimmy with the energy of the ancient ritual of pizzica tarantata, said to cure the deadly spider's bite with its frenzied trance dances. Drawing on the unique sound and heritage found on Salento, Italy's isolated peninsula, Canzoniere use lush vocals, percussion, recorder, accordion, and evocative dance to transport listeners to that good old state of altered consciousness and musical release.
Accustomed to playing to crowds tens of housands strong, their globalFEST 2012 performance will no doubt be a mesmerizing one.
---
SMOD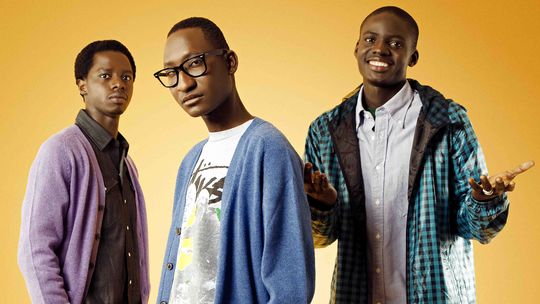 SMOD - named by the initials of the four high school friends who founded the Malian group - tells it like it is. Their beginnings as a popular Bamako crew took a fascinating musical turn when Sam, son of Malian pop duo Amadou & Mariam, picked up the guitar.
The result was a distinct roots-rap hybrid sound that incorporates crunchy organic sounds, strong flow, and Afro-centric beats, a mix the group has dubbed 'Afro-Rap'. globalFEST 2012 is graced with the groups first U.S. performance - a must-see!
---
Wang Li
Another U.S. debut at globalFEST 2012 comes from Wang Li. Hailing from Northeastern China, Li grew up playing the jew harp, and later played bass in Western-influenced bands in college.
After graduation, Li wound up in an austere French monastery where he discovered a new contemplative, intimate vision for the jew harp and Chinese sheng. After four years, he struck out on his own path of patience and stillness. He went on to study jazz at the Paris Conservatory and became fascinated with improvisation. Li then began traveling throughout his native region, learning from local musicians. He mastered circular breathing and the further subtleties the jew harp. He has moved listeners around the world to silence, so don't pass up the chance to join the ranks.
Press Quotes
PopMatters, US 'A fusion of rock and hypnotic Sufi music, Sufi Spirit is a warm, brilliant album to bask in from start to finish' 8/10
PopMatter, US 'Jones, Berryman, and Jones have created something special and timeless here'
fROOTS, UK 'a delicious selection that delights from start to finish'
Evening Standard, UK 'brilliant new album from She'Koyokh'